KFC's Grasping Customers attention with a different Marketing Stunt in Karachi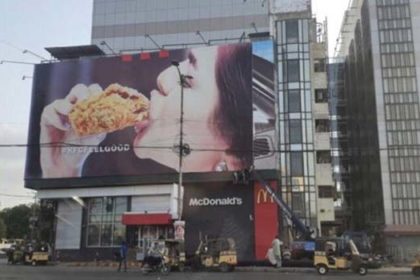 Out-of-home (OOH), Marketing is one of the most important components of advertising. Several brands are considering it essential to raise the brand value and to reside the brand name in the minds of customers. A large number of people got attracted due to marketing. Companies have acute competition among each other and everyone is in an effort to make their brand superior to others. A business needs brand equity in order to raise its value. The more visible your brand is, the higher would be its value.
Taking Marketing to next level, recently KFC put a big Out of Home (OOH) advertisement in the form of a billboard over the top of a McDonald's outlet in Karachi. One could believe it acts as a marketing purpose for Mcdonald's instead.
Read more

: KFC's Grasping Customers attention with a different Marketing Stunt in Karachi
Having a Hashtag as #KFCFeelGood and a picture of a woman who is eating and enjoying crispy chicken creates a great hype and attraction over the KFC food. This Out of Home (OOH) campaign has gained the attention of several people and highlighted a lot. People make several types of arguments over this point. Some people consider it useless, as they are already in the Mcdonald's outlet and there is no point of attraction of this Out of-Home billboard. Even some people said that the logo and pictures are not that visible, so they must be related to McDonald's.
From my point of view, this (OOH) marketing campaign has been made to increase the consumer's attention toward both of these brands. People might have made fun of this strategy and did not consider it an effective one. But it is also true that this news has gained great hype over the internet for example, on Twitter, Instagram, etc. hence making it a successful marketing campaign.
This raises the question that what would be the probable reaction of Mcdonald's over this campaign. Will McDonald's consider it a wrong act or appreciate it? What are your views? Does it leave a positive or negative impact on the sales of Mcdonald's? Leave your thoughts in the comments section!