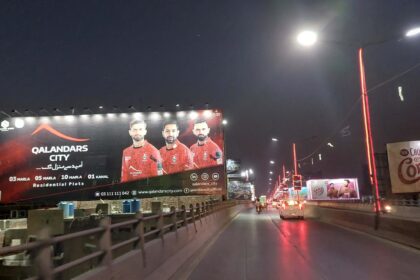 Billboards can be an effective way to sell more homes, as they allow you to reach a wide audience with eye-catching visuals and messages. Here are some tips on how to use billboards to sell more homes
Billboards advertising for real estate agents in Pakistan are a common sight in many urban areas, especially in large cities such as Karachi, Lahore, and Islamabad. These billboards are typically used by real estate agents to promote their services and properties, and to attract potential clients.
The content of these billboards can vary widely, but typically they include the name and contact information of the real estate agent, as well as a list of properties or services that they offer. Some billboards may also feature photographs or graphics of properties, as well as slogans or other marketing messages.
Real estate agents in Pakistan use billboards as one of the many marketing tools to reach out to potential clients, and they are especially useful in high-traffic areas or locations where many people may be looking for properties. However, it's worth noting that the effectiveness of billboards can vary depending on the location, design, and content of the advertisement.
Overall, billboards advertising for real estate agents in Pakistan are a common and effective way for agents to promote their services and reach potential clients
Choose the right location:
Location is key when it comes to billboards. Choose high-traffic areas, such as busy highways, major intersections, or popular shopping districts. You want to ensure that your billboard is seen by as many people as possible.
Make your message clear and concise:
Billboards are designed to be seen quickly, so your message needs to be clear and concise. Use a short tagline or headline that highlights the unique selling points of your properties. For example, "Live in luxury at XYZ Estates" or "Find your dream home today."
Use high-quality visuals:
Your visuals should be high-quality and attention-grabbing. Use professional photos of your properties to showcase their best features. You can also use graphics or illustrations to create a more eye-catching design.
Include a call-to-action:
Your billboard should include a clear call-to-action, such as "Visit our website to learn more" or "Call us today to schedule a viewing." Make it easy for potential buyers to take the next step.
Consider targeting specific demographics:
If you have a specific demographic in mind, consider using billboards that target that group. For example, if you are selling homes to families, consider placing your billboard near schools or playgrounds.
Rotate your message regularly:
To keep your billboard fresh and engaging, consider rotating your message every few weeks. This can help capture the attention of people who may have seen your billboard before but didn't take action.
Overall, billboards can be a powerful tool for selling more homes. By choosing the right location, using high-quality visuals, and including a clear call-to-action, you can capture the attention of potential buyers and drive sales.